Location: 

Bayside, New York 11361

Mileage: 

20,500

Transmission: 

Manual

Condition: 

Excellent

Exterior: 

Green

Interior: 

Black
Seller's Description:
Beautiful 1969 Dodge Dart Swinger 34O matching numbers engine and matching numbers 4 speed transmission. I have the broadcast sheet to the car. It retains all of its rust free original body panels and it was a factory undercoated car. It has power steering and drives down the road exceptionally as if it's a brand new car. It handles the road without wandering or drifting , no rattles or klunks. I am amazed at the way it drives every time I take it out.
The engine starts right up quickly with out issue. It runs flawlessly in stock form, no radical cam or hot rodding on its original engine. The transmission shifts smooth without any strange noises or binding, the shifter linkage is tight and has virtually no slop. All the lights including the reverse lights work as they should. All the factory gauges work normally and accurately. The dash lights are working bright and normally, the dimmer switch is a little glitchy and I'm sure due to age the rheostat needs to be cleaned. Currently the car has Mopar electronic distributor and ignition. It Currently is running an edelbrock 600CFM carburetor that performs flawlessly. I have the OE carb.
It has a nice 323 Sure Grip differential that makes no noises and does not leak oil. There are no oil leaks on the driveline. the engine does not overheat or run hot out on the road or in traffic. It has an aftermarket oil pressure gauge and the oils pressure is normal. The paint on the car is beautiful, it does have a few chips and a scratch that was touched up , and could be done better in my opinion. I have the correct paint to do so. The interior is nice and clean with no rips tears or wear. The headliner is excellent. The vinyl top is excellent as is all the glass, chrome and weather stripping. All the windows and door locks work normally. A slight window alignment issue on the drivers side, When all the way up where the door window meets the back window . It's not that noticeable but it's there.  The underside of the car is excellent with no dents in the floors, frame rails or the K frame.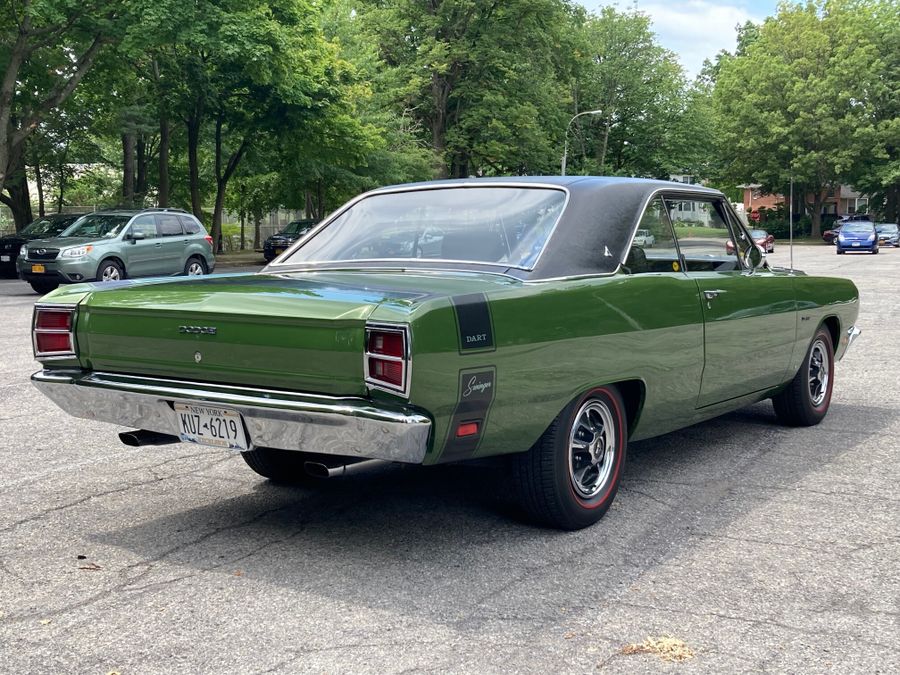 It is very Apparent this car lead a pampered life and was cared for. I believe it was painted and freshened up around 2008/9 . The odometer reads 20,600 miles , I believe it was turned back to zero when the car was freshened up, the cluster was removed and gauge fonts redone and are white and not faded . Although this car drives like it has 20K miles on it , I can't make that claim. Furthermore as a person that's been around muscle cars and has been an auto mechanic professionally at a time in my life i would comfortably say that it probably has about 60 to 80k miles on it tops. The AM radio even works and sounds good.
This car needs nothing but a new owner. I have the OE valve covers, carburetor and some other odds and ends that come with the car.
This is a very nice and solid car . Let's not waste each other's time with silly questions and asking for more photos. Serious inquiries only . If you email me with your phone number I will call you to discuss the car and send you additional photos and videos upon verbal request if need be.
Thanks for looking !!!