1964 Chevrolet Impala
The Chevrolet Impala seems to have been around for ions, and despite a couple of hiatuses, GM still produces a current Impala model to this day. While the car may not have been around for ions, per se, but it has been around for quite a few decades considering that 1958
The Chevrolet Impala seems to have been around for ions, and despite a couple of hiatuses, GM still produces a current Impala model to this day. While the car may not have been around for ions, per se, but it has been around for quite a few decades considering that 1958 was its very first model year. Let's talk about the 1964 model year, the last model of the third-generation as well as the final year to sit atop GM's X-Frame. Ideal Classic Cars is excited to offer the chance to own this gorgeous 1964 Chevrolet Impala SS 409 with a powerplant that has been stroked into something more sinister.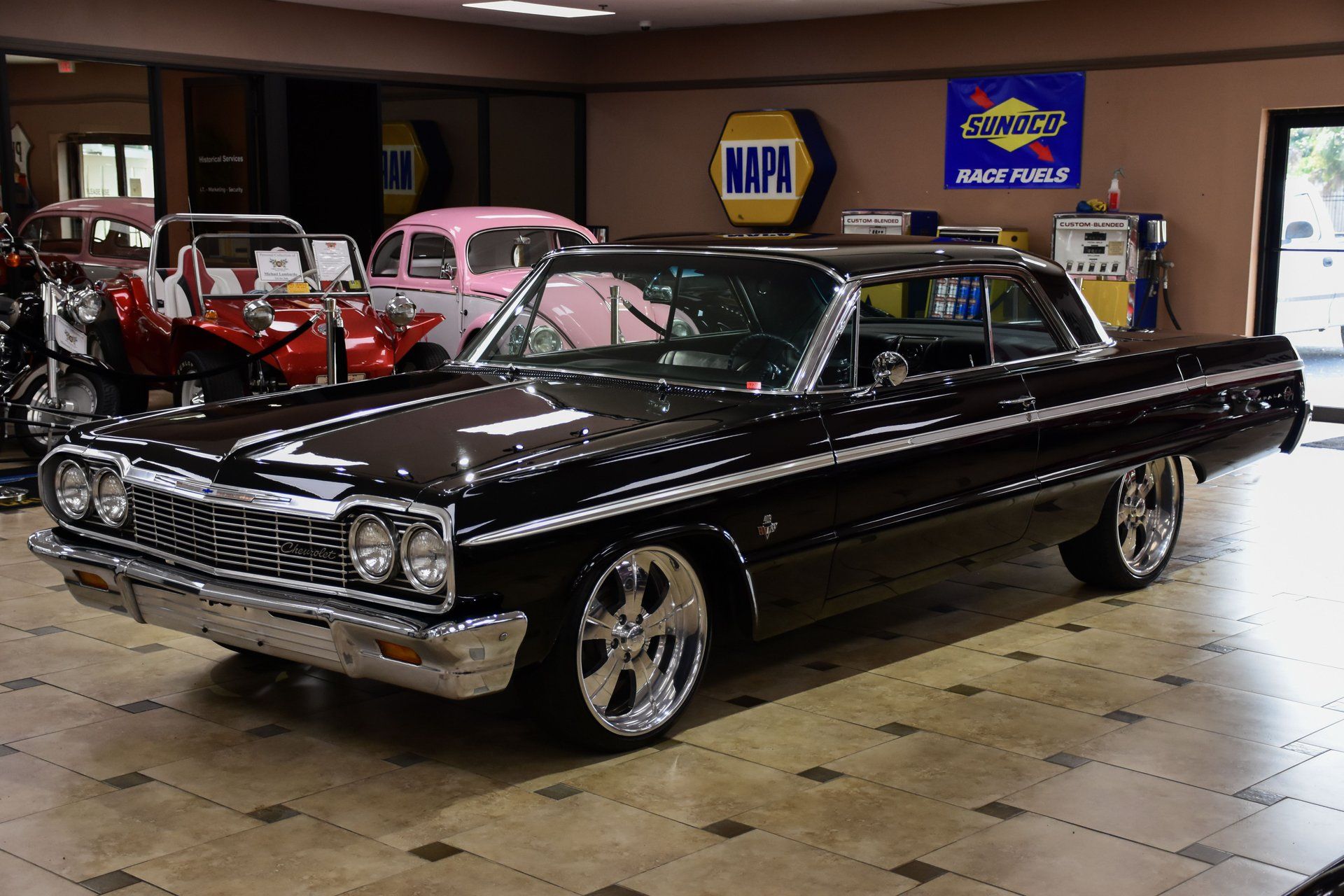 For 1964, the Impala was updated to show off a rounder and softer appearance, and the SS (Super Sport) model became its very own series. Sprayed in a glossy Tuxedo black in pristine condition, this elegant '64 Impala SS is bound to steal the show whether it's cruising down main street to the grocery store or participating in any car show. A set of custom 20-inch wheels are bolted all around and add that perfect pop of chrome against its dark aesthetic. Behind the doors sits a stealthy black interior complete with bucket seats and a console.
Although this gem features the 409 badging on the side, the big-block V8 offered for this model year, something more menacing lurks underneath the hood of this Impala. The 409-cubic-inch V8 has been built into a massive and powerful 482-cubic-inch stroker. The 482ci is fed by two four-barrel carburetors and features a ISKY camshaft, forged crank, Offenhauser finned aluminum valve covers, and spent gases exit through electric exhaust cutouts. Power is sent down through a Posi-traction rear end stuffed with 3.31 gears via a 4-speed manual transmission that is mated to a Hurst Competition Plus shifter.