1962 Chevy Impala Hudson "Street Sweeper" 350 V8 Engine But Still a Cruiser
It's not every day that you see an eye-catcher like this. Hudson's Rod and Customs, of Strawberry Plains, Tennessee, is the responsible party for this beauty of a '62 Impala. The father-son duo running Hudson's were commissioned by a man named Billy Morgan to rebuild the Impala four years ago, and since then it's made waves all over.
So let's get down to brass tacks. ScottieD TV, our host, takes us on a walk-around of car looking at all the features. He's interviewing Willy Hudson, who built the car alongside his father.
They modified the suspension with air ride technology, and gave the car customized fenders. The latter of these is a trademark upon which the Hudson clan prides itself.
A theme of this car appears to be a stylized military look, from the green-tinted headlights to the .50 cal. bullet gear shifter. The paint used was a shade called "Grenade Green," which Willy confirms was a paint scheme used on Hummers. The interior is a sight unto itself, all grommeted vinyl surfaces and "burned" metal vents. Even the steering wheel looks cool, with its conical, brushed aluminum appearance.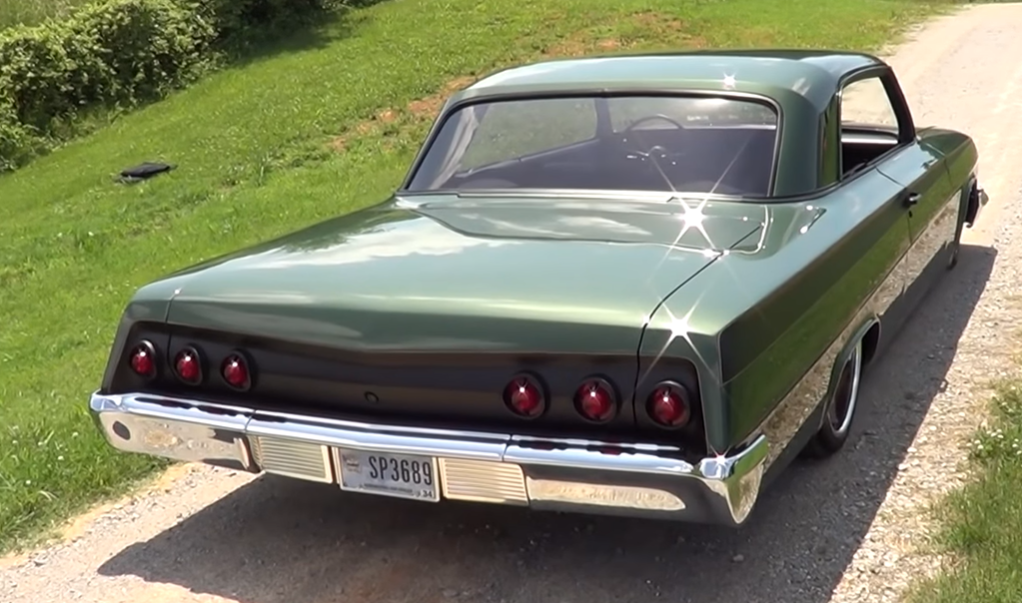 The Boyd Coddington wheels were done in a chestnut color, originally painted flat and later given a gloss by the owner. The Impala runs on a stock chassis with a Lizard Skin floor plan in it for easy cleaning. The Chevy 350 vi V-8 engine gives it power, but keeps the car set as a cruiser.
The car was one of the first built by the Hudsons, and continues to draw attention and applause all over the country. The simple fact is it's a killer of a car, and an impressive build for a company then in its infancy. Way to go, Hudson Rod and Custom.